Human connection lies at the heart of meaningful relationships. Whether it's forging new friendships or deepening existing ones, discovering common ground is essential. While many avenues lead to understanding someone better, delving into their sense of fashion can offer remarkable insights into their style personality.
This blog post will equip you with over a hundred thought-provoking questions to help uncover someone's unique style and establish a deeper connection.
Fashion Style Questions
What do you want your style to say about you?
Who are your style icons?
What items are you always drawn to?
What do you already repeatedly wear?
Who inspires you, and why?
What is your favorite store to shop at, and how would you describe the overall vibe of the store?
What is your current style saying on your behalf?
How can you use those past/previous style elements to recreate the style you want now?
Do you need multiple wardrobes? Say, one for work or school, one for frequent nights out, one for errands?
What types of items/garments do you feel incomplete/uncomfortable without?
What about your body do you want to emphasize?
What about your body would you like to camouflage?
What would you call your "vibe" (boho, trendy, classic, vintage, sporty, glam, etc.)? Do you have more than one?
How does your current wardrobe complement and communicate your vibe?
What do you actually dress like daily?
What outfit(s) have you worn that made you feel the most like yourself/the happiest/most powerful?
Why did that/those outfit(s) make you feel so good?
What are your favorite colors to wear?
If you had to wear the same thing every day for the rest of your life, what would it be?
What do you dress for most often?
What do you struggle to dress for the most? Why?
What do you own the most of?
What do you think you need more of?
How would you like to dress daily?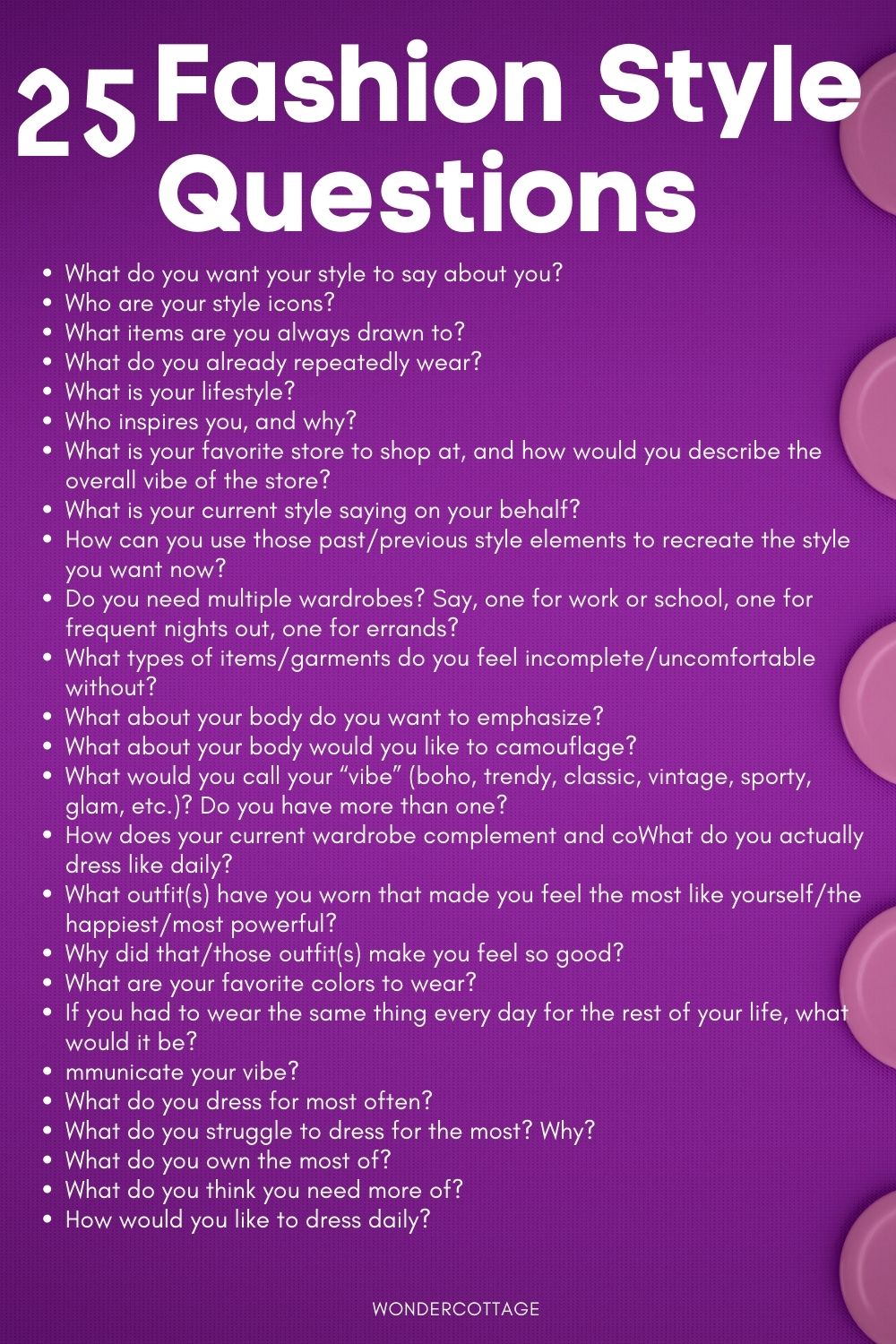 Would You Rather Questions About Fashion
Wear a funny/scary Halloween costume? Or wear a sexy Halloween costume?
Wear heels that are kinda ugly and old but super comfortable. Or wear gorgeous heels that everyone loves but torture your feet and give you blisters?
Get matching shirts with your pet? Or get matching shirts with your significant other?
Wear something covered in cat hair all day? Or wear a stained shirt all day?
Be deathly allergic to leather? Be deathly allergic to leather?
Wear a velvet tracksuit with bling every day for a year? Or wear an Ed Hardy shirt every day for a year?
Get terrible tan lines because of a cute bikini top? Wear a long-sleeve bathing suit top in 100-degree weather?
Dress like an '80s girl forever? Or dress like you're 80 forever?
Wear cargo pants forever? Or wear your collar popped forever?
Have an unlimited supply of the perfect white t-shirts? Or have an unlimited supply of the perfect little black dresses?
Wear non-prescription glasses as a fashion statement? Or wear sunglasses at night as a fashion statement?
Only wear outfits straight out of the 1920s? Only wear outfits straight out of the 1970s?
Have a closet filled ONLY with prints and bright colors? Or have a closet filled ONLY with black clothes?
Only own one pair of Yeezys? Or own an unlimited amount of Skechers?
Wear yoga pants every single day? Or wear jeans every single day?
Would you rather be seen in traditionally feminine clothes or in more androgynous wear?
Would you rather have a purple asymmetrical bob or a textured, dirty-blonde lob?
Would you rather have people say you dress too young for your age or too old for your age?
Would you rather have people think that you're a giant liar or a boyfriend thief?
Would you rather have your favorite coat stolen or your favorite shoes stolen?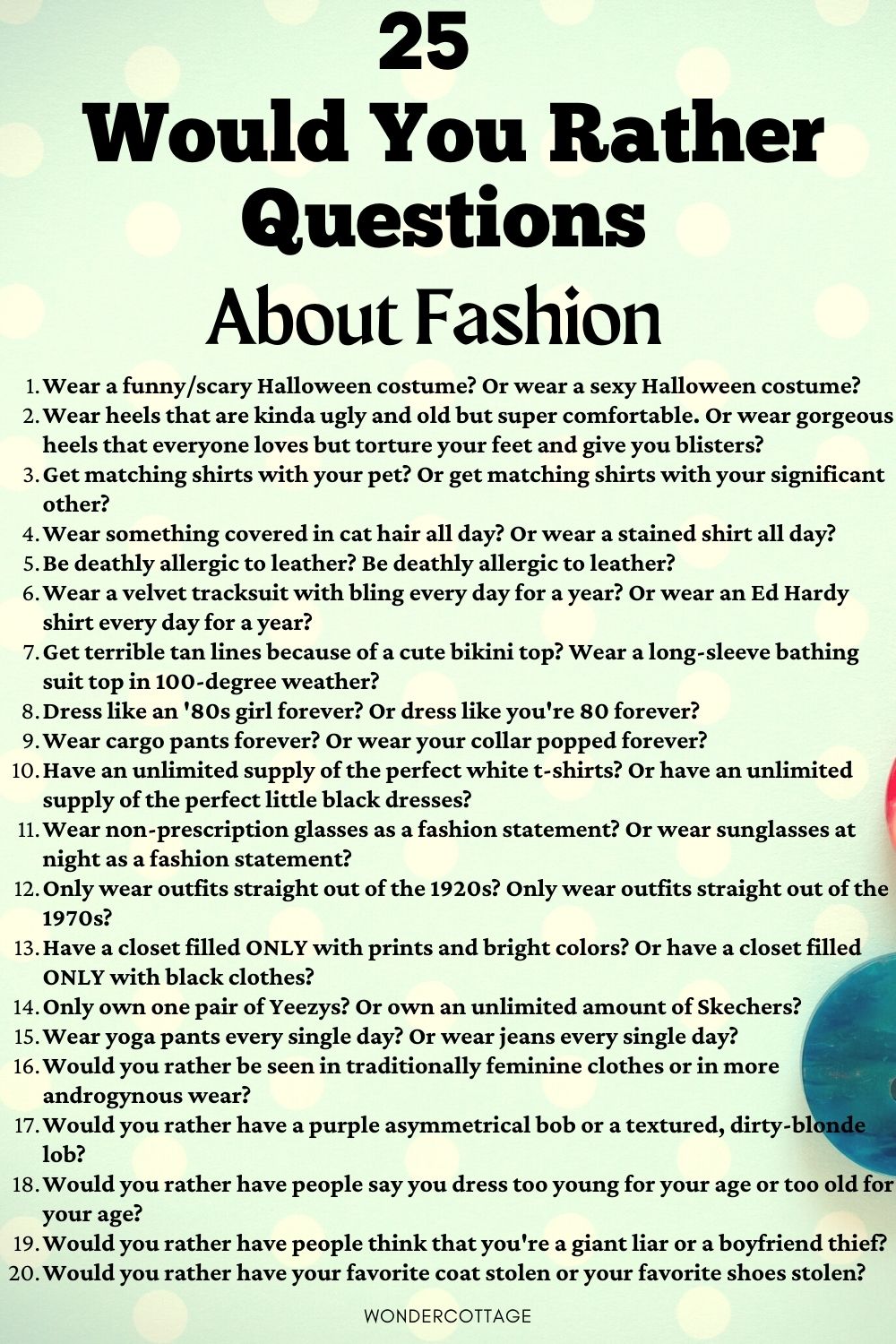 Questions To Ask Fashion Designers
Tell me about your education as a fashion designer.
How did your education prepare you for this role?
Tell me about your favorite brands.
Who are some of your favorite designers?
What type of fashion do you enjoy working with the most?
What qualifies you for this role as a fashion designer?
Tell me about your last role as a fashion designer. What were your daily responsibilities?
Tell me about your greatest achievement as a fashion designer.
What computer programs do you use in your current work?
What ethics are important for fashion designers?
Explain how you prioritize your duties as a fashion designer.
Tell me about a time when you disagreed with someone about a project. What happened?
How do you overcome a lack of motivation at work?
What does fashion mean to you?
Explain your process for selecting fabrics.
Tell me about one of the greatest challenges in your last role. How did you overcome it?
Explain your process for working with a disgruntled client.
How do you handle criticism?
Tell me about an important lesson you learned about working in the fashion industry.
Tell me about a time when you were under pressure at work. How did you manage the stress?
Why did you decide to choose fashion design as a career?
What according to you is a favorite part of being a fashion designer?
Define fashion?
Describe about your internship period?
What is the qualification required for a fashion designer career?
Fashion Conversation Questions
What is a major fashion faux pas?
Who is the best dressed person you can see now?
What clothes or hairstyles are from the 70s or 80s
What items of clothing do people not wear anymore?
What clothing do only children wear?
What accessories do men wear/carry?
What style would a trendy young woman wear?
What fashion groups are there in your culture? For example skater style
What would you never wear to a wedding
What material is uncomfortable in summer?
Do you like to wear a school uniform? Why or why not?
What fabrics do you think are beautiful
What color would you wear on a first date
What clothes would you wear on a first date
What would you wear to a romanic meal
What wouldn't you wear to a wedding?
What clothes do you wear that require you to shave your hair?
What is your favorite article of clothing?
What's your favorite color for clothes? Why?
What two things you wouldn't wear together?
What is fashion?
Who is fashionable that you know?
Do you read fashion magazines?
Which season is it the easiest to be fashionable?
Can you be fashionable without spending money?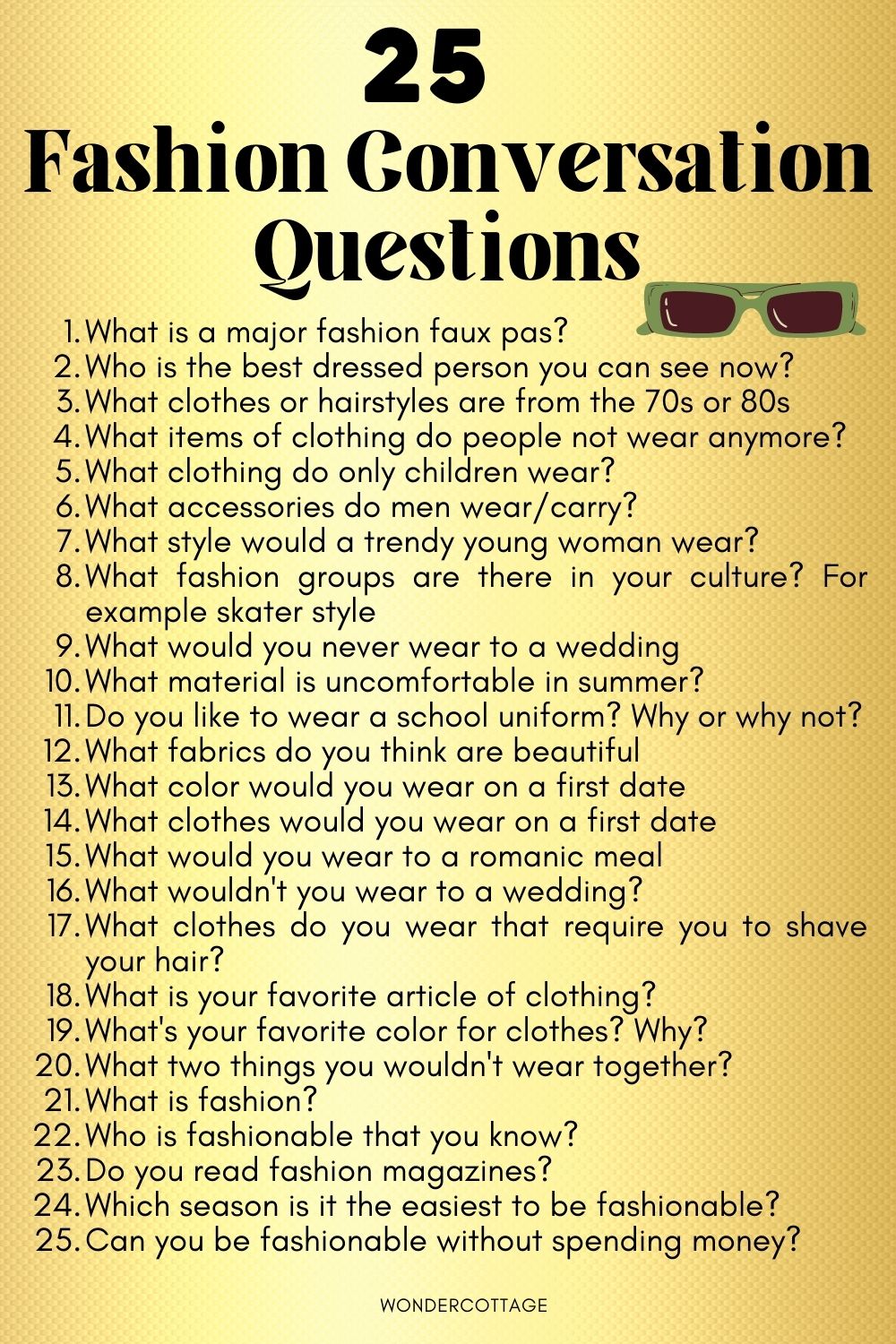 Controversial Fashion Questions
Have you ever bought something because it was fashionable? If so, what?
Does the fashion industry exist mainly to persuade people to spend money on things they do not really need?
Is fashion selfish in a world where many people have not got what they need?
Do you think fashion models should be used to sell products such as cars?
Some fashion models refuse to advertise products involving animal cruelty such as cosmetics and fur coats. Would you buy such products?
Would you like to be a fashion model if you were offered the opportunity?
Is your country famous for any fashion products? Which ones? How are they marketed?
Which countries have the best and worst fashions in clothes?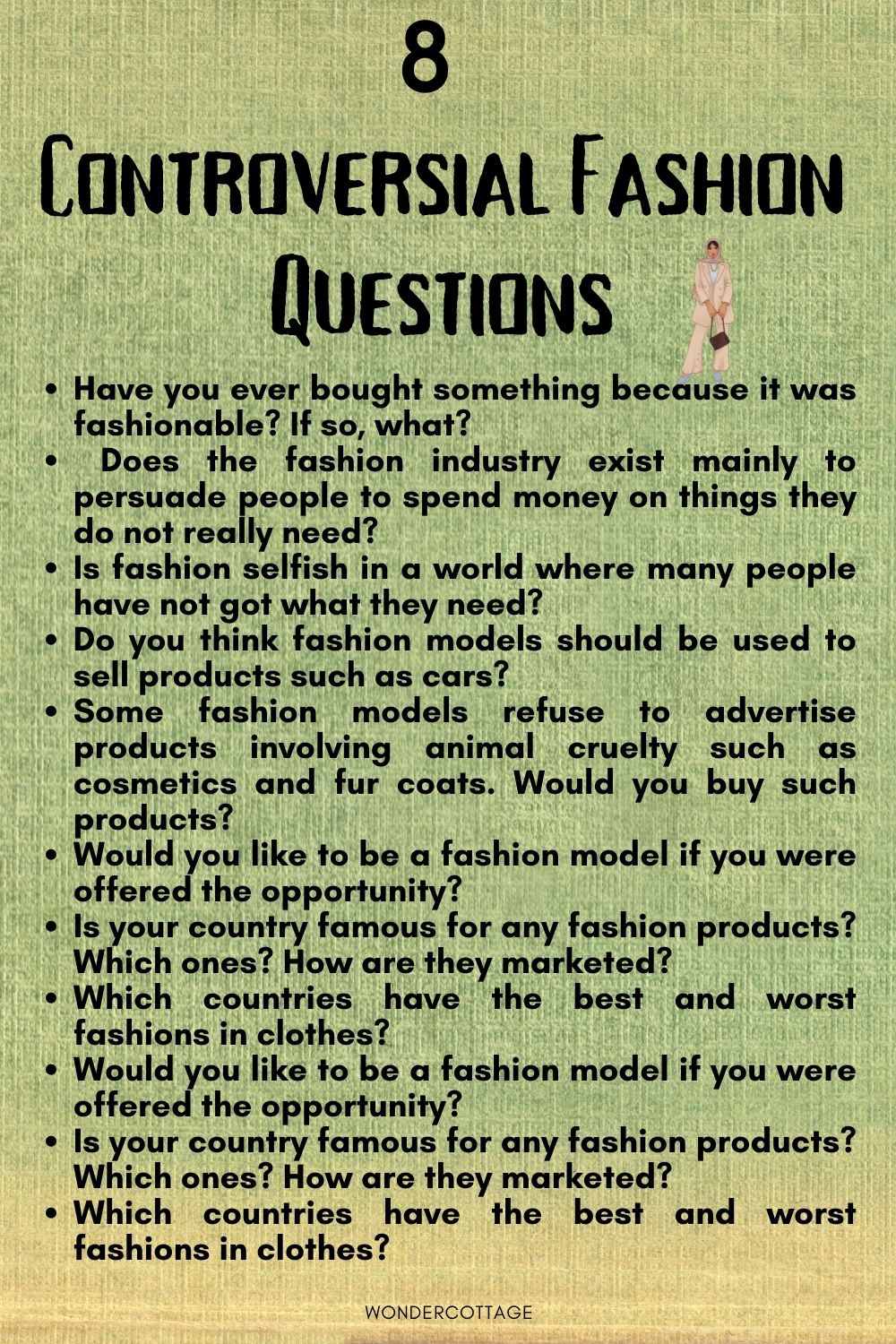 Bonding with someone on a deeper level involves understanding their personality, preferences, and experiences. Unpacking someone's fashion choices provides a unique lens into their identity and style personality.
By engaging in these hundred-plus questions, fashion becomes a gateway to establishing connections, sparking conversations, and unveiling the beauty of human diversity. Let's embark on this style-filled journey to know each other better and strengthen the bonds that tie us together!