In today's fast-paced world, many of us find ourselves strapped for cash at one time or another. Whether you want to supplement your income or save up for something special, having a side hustle can help you achieve your financial goals. So, if you're looking to make some extra money, here are sixteen side hustles that can put more cash in your pocket: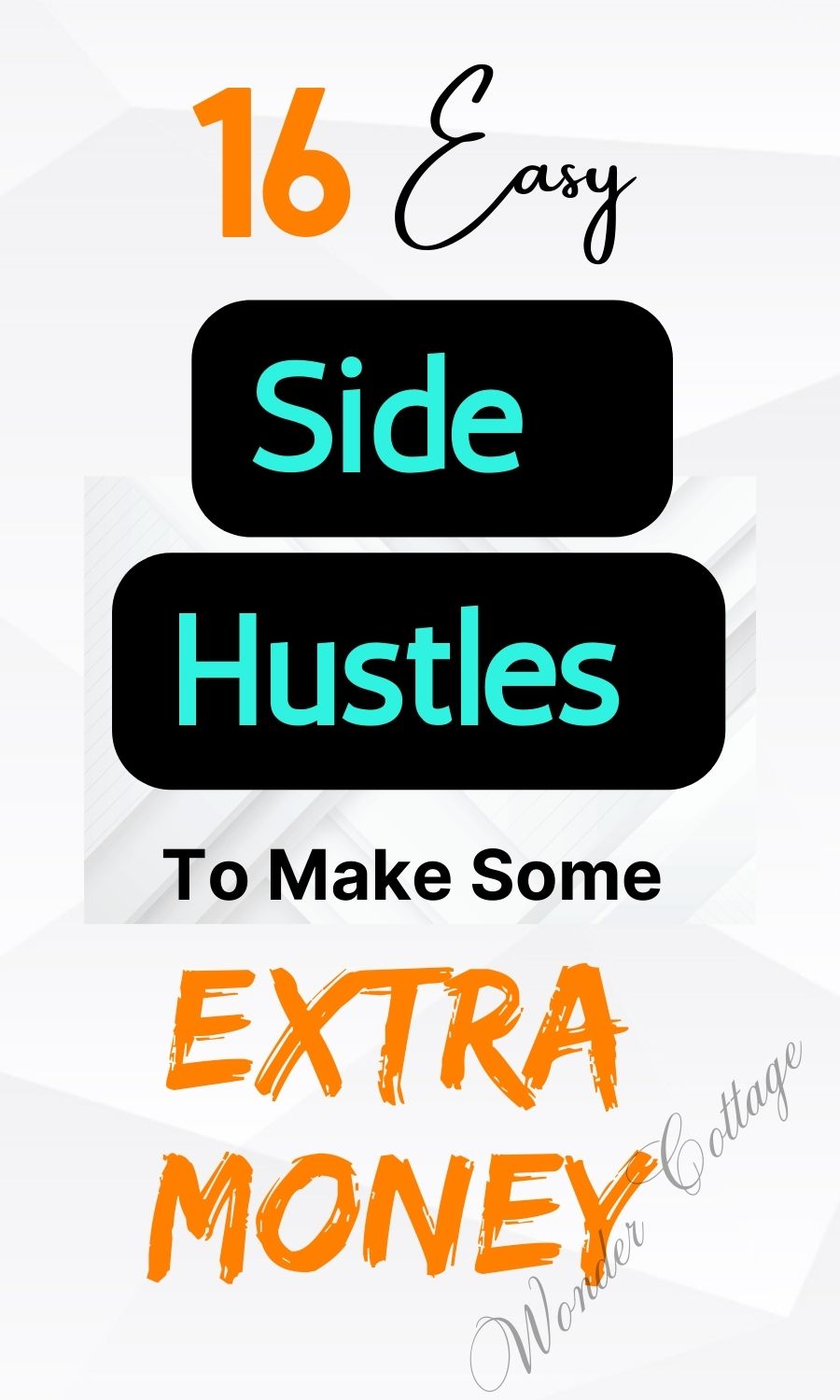 Ideas for side hustles
Freelancing
Thanks to the internet, freelancing has become a popular choice for those seeking to make extra money. If you have a particular skill or talent, such as writing, graphic design, coding, or social media management, you can find clients online and offer your services. Platforms like Upwork, Fiverr, and Freelancer serve as great marketplaces to connect with potential clients. Freelancing allows you to work on your own terms and earn money doing something you enjoy.
Online tutoring
Do you excel in a specific subject or have a talent for teaching? Consider becoming an online tutor. Many parents and students are in search of tutors who can provide personalized lessons and help boost their academic performance. Platforms like VIPKID and Tutor.com can connect you with students looking for assistance in various subjects. You can set your own schedule and rates, making it a flexible and lucrative side hustle.
Rent out your space:
If you have an extra room, a vacation property, or even a garage, consider renting it out. Platforms like Airbnb and Vrbo enable you to list your space for short-term rentals. By providing a comfortable and unique stay for travelers, you can generate a substantial income. Renting out your space allows you to capitalize on an underutilized asset and make money without too much effort.
Dog walking or pet sitting
For those who love animals, dog walking or pet sitting can be an enjoyable and rewarding side gig. Many pet owners, especially those with full-time jobs, need someone to walk or care for their pets during the day. Offering dog walking or pet sitting services can be a great way to fill that need. Apps like Rover and Wag! connect pet owners with reliable pet sitters, making it easy for you to find clients and earn some extra cash.
Start a blog or YouTube channel
If you have a passion or expertise in a particular area, consider starting a blog or YouTube channel. While it may take time to build an audience and start earning money, these platforms offer great opportunities for monetization. With a blog, you can earn through sponsored posts, affiliate marketing, or even selling your own products.
A YouTube channel allows you to make money through ads, sponsored videos, and brand collaborations. Although it requires consistent effort, creating content in an area you're passionate about can lead to a sustainable and profitable side hustle.
Rent out your car
Do you have a car that you rarely use? Consider renting it out through platforms like Turo. This way, you can make money from your vehicle while you're not using it and cover some of your expenses.
E-commerce
Starting an online business has never been easier, thanks to platforms like Shopify, Etsy, and Amazon. From handmade crafts to customized merchandise, you can set up an online store to sell products that align with your interests and talents. With careful planning and marketing efforts, this side hustle can turn into a successful and scalable source of income.
Virtual assistance
If you have good organizational and administrative skills, working as a virtual assistant can be a profitable side hustle. Many small businesses and entrepreneurs are seeking assistance with tasks like email management, data entry, and scheduling.
Delivery driving
With the expansion of food delivery apps like Uber Eats, Postmates, and DoorDash, becoming a delivery driver has become an increasingly popular side hustle. If you have a reliable vehicle and some spare time, you can sign up to be a driver and earn money delivering meals or groceries to customers' doors. This gig offers great flexibility, allowing you to select your own working hours, and you can choose to work on your off days or after your regular job.
Photography
If you have a passion for photography and a good camera, consider offering your services as a photographer. Whether it's capturing events, portraits, or selling stock photos online, photography can be a profitable side hustle.
Related Posts
Become a rideshare driver
If you own a car and have some spare time, driving for a rideshare service like Uber or Lyft can be a flexible way to earn extra money. You can work when it suits you and take advantage of peak hours to maximize your earnings.
Rent out belongings
Do you have belongings that are just collecting dust? Consider renting them out. Whether it's a camera, power tools, or camping gear, platforms like Fat Llama or ShareGrid allow you to earn money by renting out your stuff when you're not using it.
Fitness Instructor
If you're passionate about fitness and enjoy helping others achieve their health goals, consider becoming a fitness instructor. You can offer classes in person or online, allowing you to reach a wider audience.
Offer gardening or landscaping services
If you have a green thumb, offering gardening or landscaping services can be a great way to earn money year-round. Many people don't have the time or knowledge to maintain their gardens, making this side hustle in demand.
Airbnb Hosting
If you have an extra room or property that you're not using, consider becoming an Airbnb host. By renting out your space to travelers, you can earn a significant amount of extra money.
Graphic Design
If you're creative and have an eye for design, consider offering graphic design services. From designing logos to creating marketing materials, businesses are often in need of talented designers.
Side hustles provide an opportunity to pursue your passion while earning some extra money. Whether you choose freelancing, tutoring, renting, pet sitting, or content creation, finding a side hustle that aligns with your interests can be a fulfilling experience. Remember, consistency and dedication are key to growing your side hustle into a steady income stream. So, why not explore these ideas and embark on a journey towards financial independence?