One fun way to have an adventure is to travel. Exploring new places and immersing ourselves in unfamiliar cultures is an exhilarating experience that leaves us with countless memories to cherish. And what better way to preserve these memories than by capturing them in photographs?
Whether you're a hardcore traveler or just someone who loves to document your journeys, having a phone or camera full of travel photos is a treasure trove of cherished moments.
But sometimes, finding the right captions for your travel photos can be a daunting task. You want your captions to reflect the essence of the moment, to convey the emotions and excitement you felt during your travels. Fear not! We've compiled a list of fun and creative captions that will perfectly complement your stunning travel snapshots.
Memories travel captions
"Pretty excited that I found this pic from ages ago."

"I could go for another morning like this."
"The world looks beautiful on you."
"Travel buddies for life."
Things I'm grateful for: my passport, my pals, and the world."
My camera and passport. That's all I need."
"Live a life that you love."
"If we were meant to stay in one place, we would have roots instead of feet." — Rachel Wolchin
"Still wandering. Still wondering."
"My wanderlust is calling."
Oh, this time and this place."
"Nothing but blue skies and good vibes."
"I have a whole world in my camera roll."
"Slow down, sit down, and just be."
"Just wishing we were here."
"Time flies…until you're counting down the days to your next vacay."
"Restless between adventures."
"You may not find a path, but you will find a way." – Tom Wolfe
"I am not the same, having seen the moon shine on the other side of the world." – Mary Anne Radmacher
"Can't wait to do it all again."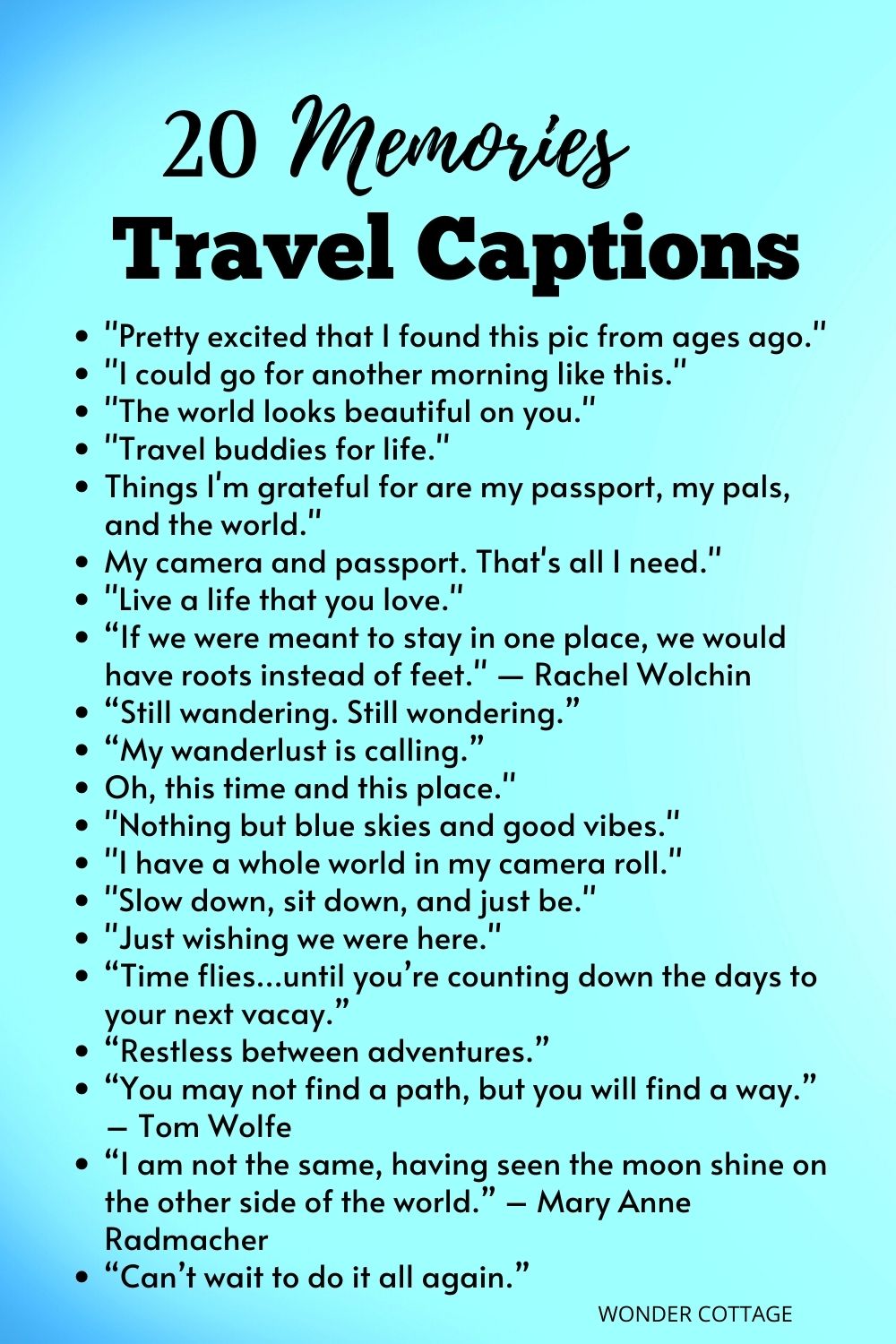 Travel captions for a couple
Happiness is planning a trip together
Exploring someplace new with you
Wherever we may wander, let it be with you
Sometimes you need to travel far to appreciate what's close to you
Cheers to more adventures together
You are and will always be my favorite adventure
Having the right person by your side makes a world of difference
You're my favorite place to be
You feel like a vacation
I don't mind if you wanna go anywhere, I'll take you there
"If traveling were free, we'd be gone forever."
"Reality called, so we hung up."
Nothing about my bae is plane."
"The only baggage in our relationship is trying to unpack after a vacation."
There's Norway I want to go without you."
"I shore do love spending time with you."
"Time flies when you're traveling with bae."
"Traveling with my Seoul-mate."
"You hog the bed and steal the covers, but I still love you."
"No one else I'd rather share my pizza with."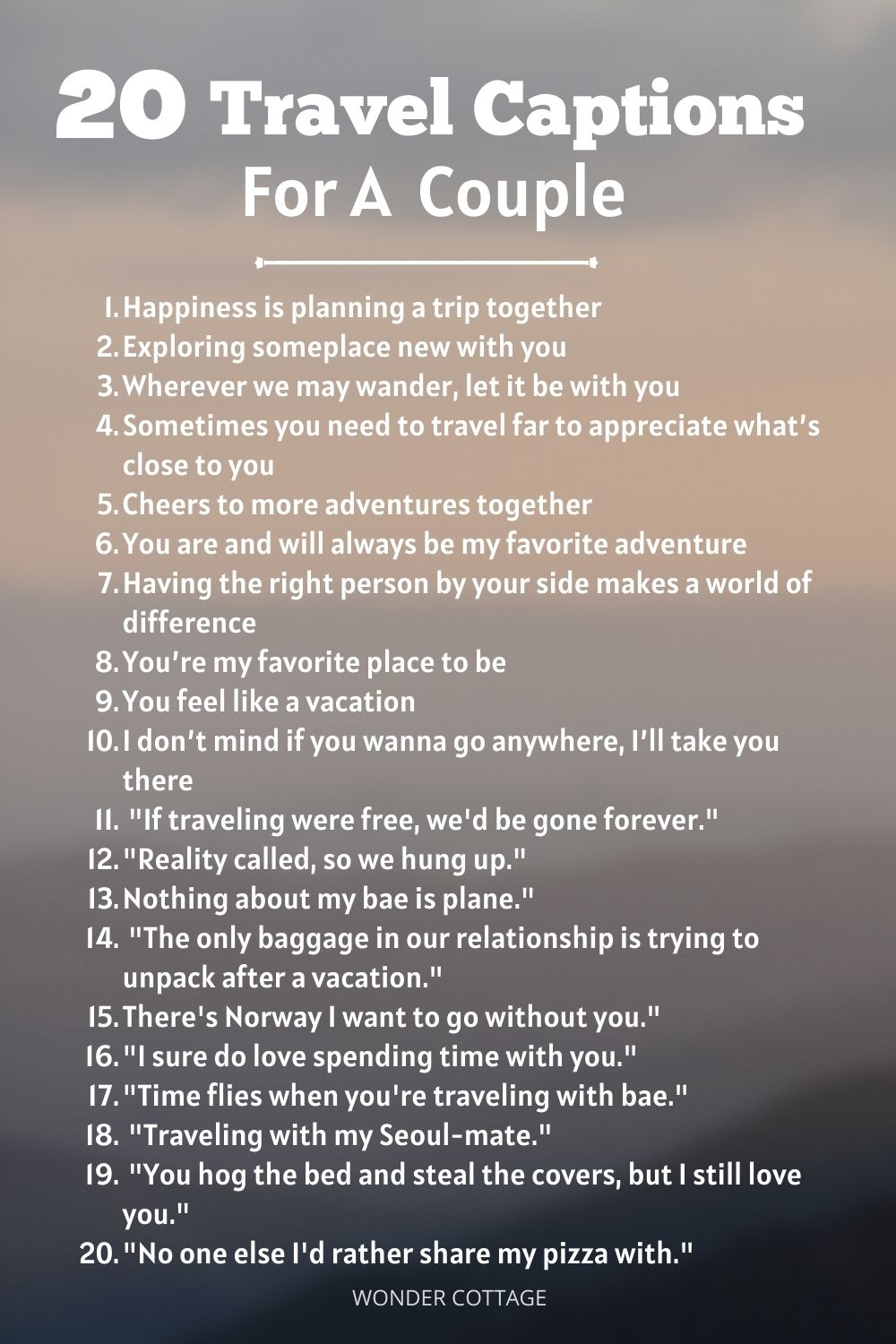 Car travel captions
Wanna go for a ride?
According to the map, we've only gone four inches
Are we there yet?
My heart is on the open road
Speeding into a new sunrise
On a road trip, be back never
All I need is one wheel in hand and four wheels on the road
Road trips aren't measured by mile markers, but by moments
Nowhere to be but everywhere
Really in the mood for a long drive with no destination
Sometimes, all you need is a good friend and a full tank of gas
Your life, your ride
Hit the road
Having a ferry good time!
Shut up and drive
The world is round for a reason: so that we would never be able to see too far down the road
Happiness is a mix CD and a road trip
BRB – on an adventure
Cruising down the highway of life
Happiness is a road trip with a good playlist
Travel experience captions
"Jobs fill your pockets, adventures fill your soul."
"Remember that happiness is a way of travel, not a destination."
"The world is a book and those who do not travel read only one page."
"Travel is the only thing you buy that makes you richer."
"Travel is an investment in yourself.
"Life is short, and the world is wide."
"It's not what you look at that matters. It's what you see."
"The goal is to die with memories not dreams."
"Sandy Toes sunkissed nose."
"Some beautiful paths can't be discovered without getting lost."
"Better to see something once than hear about it a thousand times"
"Adventure may hurt you but monotony will kill you."
"Don't listen to what they say. Go see."
"To Travel is to Live" – Hans Christian Andersen
"Work, Travel, Save, Repeat"
If we were meant to stay in one place, we'd have roots instead of feet."
"At the end of the day your feet should be dirty, your hair messy and your eyes sparkling."
"Don't let fear get in the way of the life you are meant to live."
"I travel because I become uncomfortable being too comfortable."
"G where you feel most alive."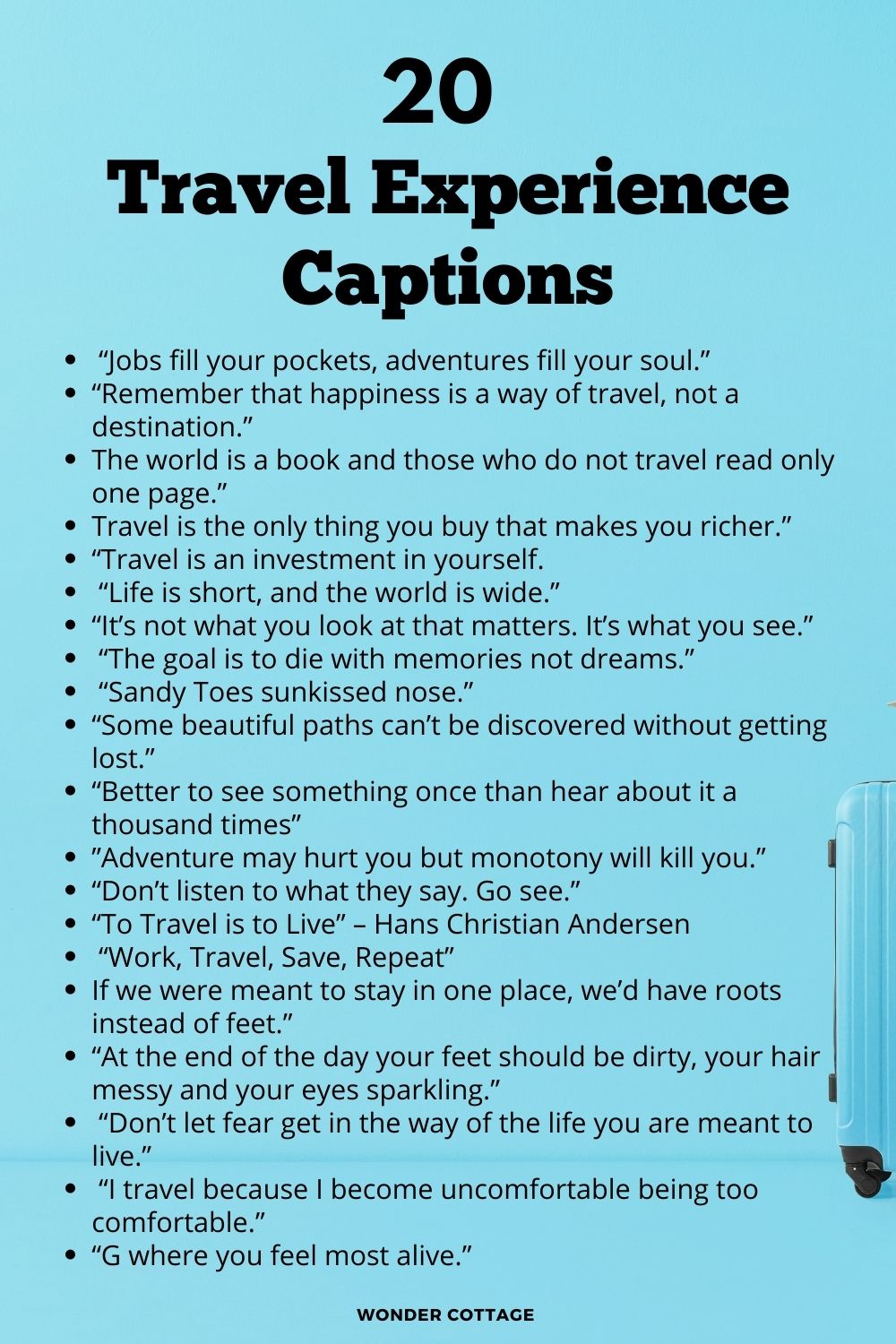 Related Posts
Dope travel captions
"Wherever you go, remember that I'm always close to you. Holding the string that winds you through my heart and keeps your spirit whole. – Notebook"
"Winter is my most favourite season. I don't know if I'm cold or excited, but it's definitely extreme."
"I'm not the type to have everything figured out. These are my lifelong goals.
"The things you own end up owning you if you don't set them free.
"This is not the end. It is not even the beginning of the end. But it is, perhaps, the end of the beginning."
"I've found my happy place."
"What's on my bucket list? Everywhere."
"Take memories, leave footprints."
"Life is short and the world is wide. I better get started."
When I'm exploring the world is when I feel most at home."
"Only those who will risk going too far can find out how far one can go."
Travel is optimism in motion."
"I want to make memories all over the world."
Collecting moments, not things."
"Travel more, worry less."
Work, travel, save, repeat."
"Find a beautiful place, and get lost."
"Jobs fill your pocket, but adventures fill your soul."
"A good traveler has no fixed plans, and has no intent on arriving."
Never stop your wanderlust."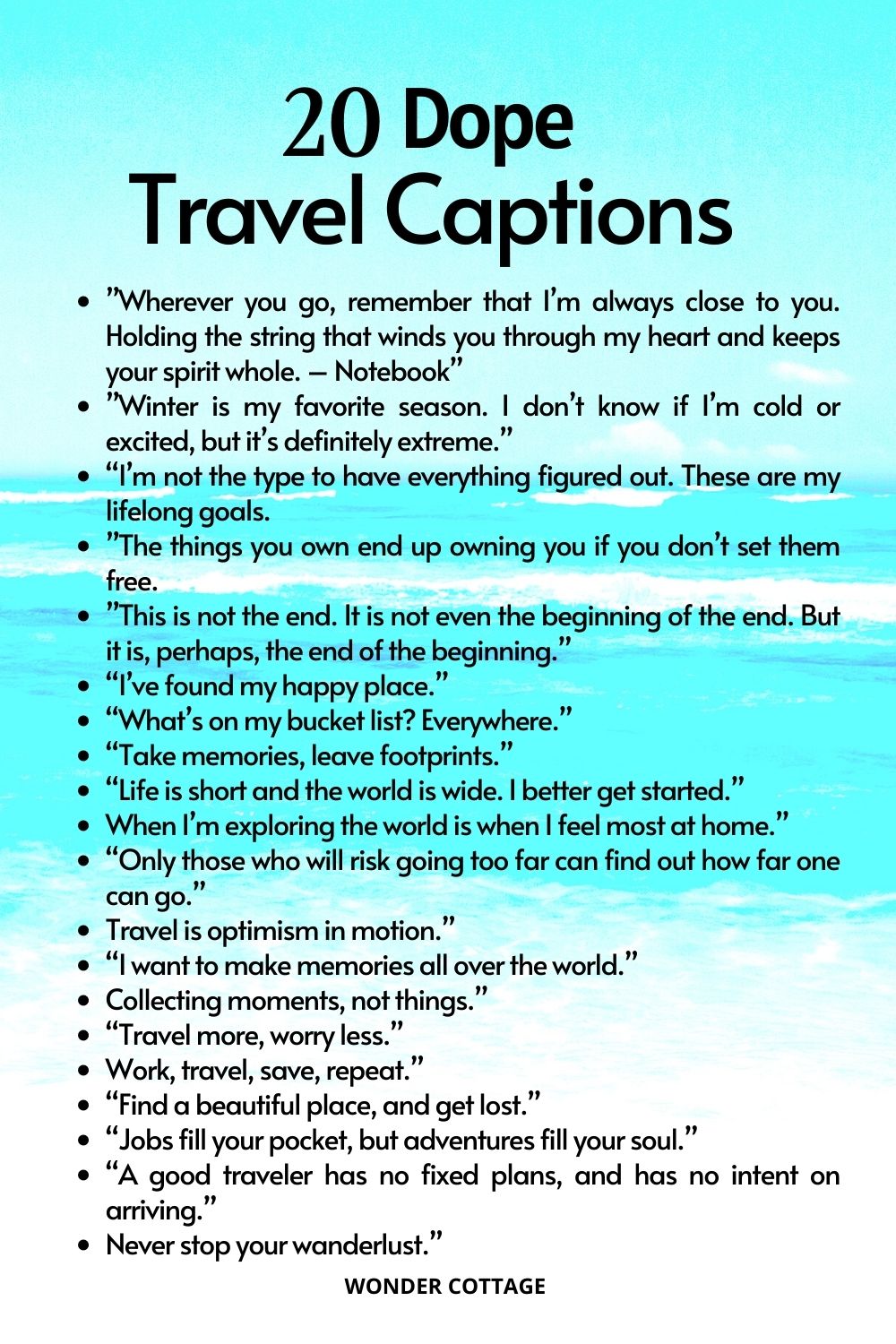 Desert travel captions
"Sand is my favorite color."
"Peace, love, and desert dust."
"Never met a desert sunset I didn't like."
"I was born to explore."
"Always take the scenic route.
Good, clean fun — in the sand."
"I love the desert and its incomparable sense of space." — Robyn Davidson
"Find me where the wild things are." — Alessia Cara, "Wild Things"
"Out here, whenever there's a lull in the conversation, nature gives us a real tumbleweed to break the silence."
"Windows down, wind through my hair, desert dust in my shoes."
Life is like a desert. You only regret the oasis you let pass.
Life is like a desert. You only regret the oasis you let pass.
Love me or hate me, the desert seems to say, this is what I am and this is what I shall remain.
A rose in the desert can only survive on its strength, not its beauty.
Soaking up the sun in the desert.
Pretty fly for a cacti
Serving you just deserts
The desert prickles my fancy
Been there, dune that
How are you dune?
Baby travel captions for Instagram
"The best education you will ever get is traveling. Nothing teaches you more than exploring the world and accumulating experiences." – Mark Paterson
"It's a magical world, Hobbes, ol' buddy… Let's go exploring!" – Calvin from Calvin and Hobbes
"To travel is to live" – Hans Christian Anderson
"The biggest adventure you can ever take is to live the life of your dreams." – Oprah Winfrey
Don't tell me the sky's the limit when there are footsteps on the moon" – Paul Brandt
"Life is either a daring adventure or nothing at all" – Helen Keller
"Take only memories, leave only footprints" – Chief Seattle
"I do believe it's time for another adventure." – Unknown
"Every sunset is also a sunrise. It all depends on where you stand" – Karl Schmidt
"Because when you stop and look around, this life is pretty amazing." – Dr. Seuss
"The greatest legacy we can leave our children is happy memories" – Og Mandino
"Teaching kids to count is fine, but teaching them what counts is best." – Bob Talbert.
"Where you lead, I will follow." – Carole King
"Educating the mind without educating the heart is no education at all" – Aristotle
Children learn more from what you are than what you teach~ W.E.B. DuBois
Summer vacations are a time when parents realize that teachers are grossly underpaid.
You can learn many things from children. How much patience you have, for instance.~ Franklin P. Jones
I take my children everywhere, but they always find their way back home.~ Robert Orben
It is a magical world, pack up your kids and get exploring.
You will never look back in your life and think, I spent too much time with my kids.~ Kimberly Mcleod
Alone travel captions
"Some journeys can be only traveled alone."
"If you never go, you will never know."
"A nomad I will remain for life, in love with distant and uncharted places."
"The journey of life is amazingly beautiful if you take it as a fearless adventure."
"Don't be scared to walk alone. Don't be scared to like
"Travel only with thy equals or thy betters; if there are none, travel alone."
"There are some places in life where you can only go alone. Embrace the beauty of your solo journey."
"Life begins at the end of your comfort zone."
"Life shrinks or expands in proportion with one's
. "Being a solo traveler made me an adult!"
"Live your life by a compass, not a clock."
"Traveling alone will be the scariest, most liberating, life-changing experience of your life. Try it at least once!"
"A ship is safe in the harbor, but that's not what ships are built for."
"Then one day, when you least expect it, the great adventure finds you."
"Traveling is not something you're good at. It'
"We travel, some of us forever, to seek other states, other lives, other souls."
"If you don't go after what you want, you'll never have it. If you don't ask, the answer is always no. If you don't step forward, you are always in the same place."
"The question isn't who is going to let me; it's who is going to stop me."
"Not I, nor anyone else can travel that road for you. You must travel it yourself."
"As a woman, I have no country. As a woman, my country is the whole world."
Remember, these captions are just a starting point. Feel free to personalize them or come up with your own unique captions that capture the essence of your travel experiences. Whether you're exploring distant lands or adventuring in your own backyard, every journey is an opportunity for growth and discovery.
So embrace the joy of travel, soak in the moments, and don't forget to capture them in photographs – for it is through these snapshots that memories become immortalized. Happy travels, adventurers!